Purchasing or adopting a pet can be extremely exciting, as pets are often treated like another member of the family. In most cases, people purchase their pets from pet shops, professional breeders or private sellers; or they choose to adopt them from animal shelters or rescues.
Although exciting, it is important to consider that a pet is a lifelong commitment where you are responsible for providing food, exercise, housing, grooming, companionship and most importantly, veterinary care. It can therefore be very distressing to have purchased or adopted a new pet only to find out they are sick or injured.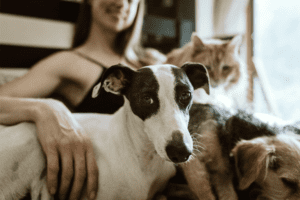 Are you protected if your new pet is sick or injured?
Purchasing a pet is like buying any other product, even though you are likely to feel much more emotionally connected to your pet than an inanimate object. Under Australian Consumer Law (ACL), as set out in Schedule 2 of the Competition and Consumer Act 2010, a person is protected by a basic set of consumer rights and guarantees to ensure the purchase is fair and that you get what you paid for. Generally speaking, when purchasing a product (including a pet) it must match the description made by the seller in advertising, do all things that would normally be expected, be of acceptable quality, and be safe, lasting and have no defects. Applying these guarantees to the purchase of a pet means that it should be free of any significant health issues and not suffer from inherited defects early in its life.
There are some exceptions to these guarantees when in relation to adopting a pet from an animal shelter or rescue. Some basic guarantees may apply, however, often shelters and rescues do not know the history of an animal, in turn limiting their liability.
It should also be noted that consumer guarantees do not apply to one-off purchases. For example, if you purchase your pet from a private seller who does not normally sell their animals, you may not be covered, as it may not be considered a commercial transaction.
What are your rights if your new pet is sick or injured or develops a congenital disease?
If you have purchased a pet and it has failed to meet the normal expectations, you may have consumer rights. Generally speaking, you cannot seek remedies if you have changed your mind about the purchase of a pet, or if the pets' illness or injury is beyond the seller's control. In saying this, in a case where the seller has made additional promises about quality, condition, performance or has provided extended warranty, the guarantees must be upheld. If the promises are not met or the advertisements do not accurately depict the product (in this case the pet) you may be able to seek remedy for misleading and deceptive conduct.  Some breeders of dogs for example will advertise that the puppies they breed are screened for inherited/congenital diseases and thus will not have them. If a puppy bought with these sorts of claims later grows up to develop congenital problems, you may have a claim against the breeder, particularly where you relied on those claims in choosing to buy from that breeder.
What to do if your new pet is unwell?
The first step upon your pet appearing unwell is to seek veterinary care. After your pet is diagnosed or the cause of the problem is identified, you should contact an experienced person such as a lawyer to seek advice about your rights. Your lawyer will need to review the expert veterinary reports and referrals done for your pet before being in a position to advise you.
Most responsible pet sellers will have policies and procedures in place for treatment and/or return of a new pet. In saying this, returning a pet is often not the desired outcome which is why it is crucial to seek advice about potential legal remedies. Lawyers are unbiased and can critically evaluate your situation to determine whether you are protected by consumer rights and guarantees and/or under common law, such as through negligence or breach of contract.
Should you have any queries in regard to a new sick or injured pet, please contact Matthies Lawyers for an obligation free consultation or call +61 3 8692 2517 today.
Disclaimer: This article contains general information only and is not intended to be a substitute for obtaining legal advice.