There are many costs that should be considered when planning for a Divorce. The main costs involved in a divorce involve court fees, lawyer fees (including solicitors and barristers), application fees and the costs associated with living independently.
Who pays the legal costs in a dispute?
Section 117 of the Family Law Act sets out the rules relating to costs. It states that each party involved in family law proceedings shall pay their own legal costs. However, if the court is of the opinion that there are circumstances that justify it in doing so, it may make an order as to costs.
When considering if a cost order should be made, the court will consider:
The financial circumstances of each of the parties;
Whether any party to the proceeding is receiving any legal aid, and the terms of that assistance;
The conduct of the parties in relation to the proceedings;
Whether the proceedings were necessitated by the failure of a party to comply with previous orders of the court;
Whether any party to the proceedings has been wholly unsuccessful in the proceedings;
Whether either party to the proceedings has made an offer in writing to the other party to the proceedings to settle the proceedings and the terms of any such offer; and
Such other matters as the court considers relevant.
For example, in Peake & Benedict [1], a party costs order was made on the basis that the wife had failed to engage in meaningful negotiation and observe or act upon the object of having a just, efficient, and economical resolution of proceedings. However, the costs order was limited based on the husband's litigious conduct and refusal to negotiate in some circumstances.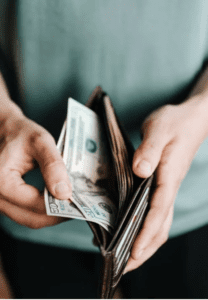 Types of costs
If the court determines there are circumstances to award costs the Federal Circuit and Family Court of Australia may order:
Indemnity costs: The court may order that one party pay all of the other party's costs that have been reasonably and properly incurred. This will only happen in exceptional circumstances;
Party costs: This is where a party is ordered to pay another party's costs in regard to an itemised scale;
Costs of a fixed sum: The court will determine what fixed sum the other party will pay.
Filing fee
The filing fee for divorce is $930 unless you are eligible for a reduced application fee of $310. You will only be eligible for this fee if:
you're considered living under financial hardship;
you hold a Department of Human Services healthcare card, pensioner concession card, or Department of Veteran's Affairs that entitles you to such concession;
you're receiving legal aid;
you're receiving youth payments;
you're aged 18 or under; or
you're a prison inmate, or are legally detained in a public institution.
Lawyer fees
In most family law circumstances your lawyer will charge you a fee for service. This will most likely be an hourly rate based on the time they spend working on your legal problem.
See a financial planner
It is recommended that you see a financial planner when going through a divorce to help you consider all the costs involved. A person that may be the lower income earning spouse in a marriage may not be aware of all the costs associated with living. Important categories that a financial planner will help you plan for are housing, transportation, food, personal care, entertainment, health, dependent care, and gifts.
A further important thing to consider when planning for costs in the future is that you should not expect to receive spousal maintenance forever. If you are eligible for these payments, it will usually only be for a limited time until you are able to get back in a situation where you can financially support yourself. For more information on spousal maintenance please see our previous post here.
Nicola Maltman – Law Clerk – Matthies Lawyers
Thus should you have any queries in regard to family law or cost matters, please contact Matthies Lawyers for an obligation free consultation or call +61 3 8692 2517 today.
Disclaimer: This article contains general information only and is not intended to be a substitute for obtaining legal advice.
[1] Peake & Benedict (Costs) [2014] FCCA 2723 (5 December 2014).