Pets are often treated as another member of the family, so what happens if you separate from your partner? Who gets your beloved pet?
It is a common misconception that when there is a relationship breakdown, pet disputes are treated as a custody battle. There is no specific provision within the Family Law Act dealing with pets, rather they are considered a chattel or property.
Generally, courts are reluctant to make determinations in relation to pet ownership. The courts therefore encourage parties to come to an agreement on their own. This can be done through direct negotiation with each party's lawyer or through the Family Dispute Resolution process. Parties to family law property applications are likely to be required to mediate once the Court process is initiated.
In the event the parties cannot reach an agreement about who gets the pet/s, they must be included in the property settlement. Like any other form of property, the court can make any order it considers appropriate to settle the dispute. When making orders, the court will consider which party has a suitable place for the pet to live, who was the main caregiver for the pet (who walked, fed and bathed the pet), and perhaps most significantly, who paid for and was the registered owner of the pet. In Australia, courts are not required to consider what is in the best interest of the animal. It is to the court's discretion to determine the most appropriate outcome for the dispute, including the ability to order that a pet be sold – as they often do with other property such as a house or a car.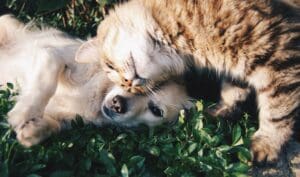 Should the pet's best interest be considered?
Australia has an extremely high pet population of 29 million pets with around 61% of households hosting a pet today. Many debate that the way Australian law considers animals as property, is inconsistent with the way families treat their pets. Further, many argue that the way in which animals are capable of experiencing emotions make the current law inappropriate.
There are some jurisdictions that do consider an animal's best interest in deciding an appropriate settlement. In saying this, Australian  courts have been consistently opposed to applying such a principle.
Is there a way to avoid a pet dispute?
It is possible to have your pet custody/ownership plan included in a prenuptial agreement because they are considered chattels. With more people owning pets and a growing fear of future custody battles, this method is becoming a rising trend.
Although this is a legitimate consideration, prenuptial agreements can sometimes be uncertain – particularly when in relation to pets. In the case a prenup was disputed, the pet would be delt with in accordance with the law as property, which could result in an undesirable outcome for one or both of the parties.
Seeking legal advice
The best way to settle pet disputes is to reach an agreement between yourselves. Pets are often treated as part of the family, which is why it would be devastating to have a court order for them to be sold to settle the dispute.
If you are suffering a relationship breakdown, it is important to seek legal advice about who will gain custody of your pet. Family lawyers are experienced and effective negotiators who can make the process of coming to a pet agreement easier and less stressful. Such agreements can include week about living arrangements, or access over weekends or holiday periods, as with children, where they are workable.  We have had clients who have successfully maintained such access arrangements over many years, and for some people and pets these arrangements can be mutually beneficial.
Should you have any queries in regard to pet custody or ownership, please contact Matthies Lawyers for an obligation free consultation or call +61 3 8692 2517 today.
Disclaimer: This article contains general information only and is not intended to be a substitute for obtaining legal advice.