Prior to 12 May 2020, a Will and Power of Attorney would only be validly executed in Victoria if it was physically signed in the presence of two adult witnesses. The Electronic Transactions (Victoria) Act 2000 specifically excluded Wills from being able to be validly executed by electronic means. However, due to the COVID-19 pandemic, restrictions on physical contact and stay-at-home measures were implemented across Victoria, which saw temporary measures introduced to allow Wills and other documents to be signed and witnessed remotely.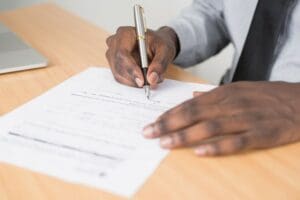 New law
New laws were passed on 23 March 2021 in the Justice Legislation Amendment (System Enhancements and Other Matters) Act 2021 which permanently amended the Wills Act 1997. These new laws came into effect on 26 April 2021.
What does this mean for you?
The new laws now allow Wills and other documents such as Power of Attorneys and Statutory Declarations to be signed electronically and witnessed via an audio-visual link. The regulations do not specify a particular platform that needs to be used as long as it enables audio and visual communication between persons at different places. As a result, platforms such as Zoom, Skype, and Facetime may be used. A special witness (an Australian legal practitioner or justice of the peace) will be required to execute your will remotely.
What we know about the new laws and difficulties it creates
Whilst the new laws are more convenient and provide flexibility, they are also quite complex and difficult to follow. Out of seven recent applications that were made to the Supreme Court attempting to comply with the new process, none had properly complied with the new regulations, and therefore those Wills were invalid. Furthermore, the electronic signing of Wills increases the risk of fraud and undue influence. It also increases concerns regarding data protection, with questions being raised about how long the video recording should be stored for and who is responsible for storing it. An invalid Will can also create many difficulties such as an expensive court application if admitted as an 'informal will' or a person's assets being distributed under a former Will or under the intestacy rule. Hence the procedure for the remote execution of Wills needs to be closely followed to ensure this does not happen.
What we recommend
Whilst we welcome these new laws to ensure the legal profession is keeping up to date with rapidly changing circumstances in our society, we recommend that the remote execution of legal documents such as Wills only be used in last resort situations, if the witnessing of documents cannot be executed in person. This is to ensure all procedures are complied with correctly to make sure a valid will is produced.
Nicola Maltman – Law Clerk  – Matthies Lawyers
Should you have any queries in regard to the remote execution of legal documents, please contact Matthies Lawyers for an obligation-free consultation or call +61 3 8692 2517 today.
Disclaimer: This article contains general information only and is not intended to be a substitute for obtaining legal advice.