Couples who have been married, can make an application for divorce in the Family Court or Federal Circuit Court to have financial and parental matters between them decided following the breakdown of their marriage. Generally speaking, the Family Court deals with more complex financial and parental matters when compared to the Federal Circuit Court.
In order to obtain a successful application for divorce, it must be proven that there is an irretrievable breakdown of marriage, and that you have been living separately and apart for a minimum of 12 months immediately prior to making an application for divorce. Separation does not necessarily mean you need to be living in separate properties; rather needs to satisfy that there has been communication of intention to separate, and that there has been an action upon that intention such as not sleeping in the same bed.
There are further limitations on divorce applications when the marriage is under two years in length. The Family Law Act 1975 provides that couples who have been married for under two years, must attempt to reconcile with the assistance of a counsellor, individual or nominated organisation before applying for divorce. There are some limited exceptions to this rule.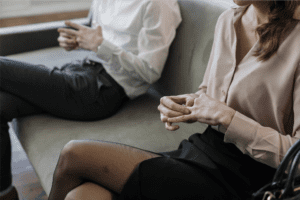 The Process of Dividing Marital Assets for Divorce
In most cases, if a couple is unable to agree on the division of assets, they must have their dispute mediated before they are permitted to make an application to the relevant court. Mediation can be done at little cost through Relationships Australia, but if couples have significant assets in disputes they will often prefer to have their dispute mediated privately through their own lawyer, who will engage a barrister to represent each party and a professional mediator. The reason mediation is required in most cases, is because it is often the time matters can be resolved without the need for the courts, ultimately saving money and time.
Unfortunately, in the case of a marriage breakdown, people often become less pragmatic due to anger and stress. As a result, mediation does not always result in a resolution between parties. Mediation is highly unlikely to resolve in cases where one party has failed to adequately disclose their financial affairs. The acting lawyer in this case would not be able to appropriately advise their client as to whether a proposed settlement offer is fair and reasonable.
If mediation fails to resolve the matters in dispute, either party may then apply to the Federal Circuit Court or Family Court for property orders and/or parental orders.
Initiating Proceedings for Divorce
When parties initiate and respond to proceedings, they are required to file and swear a financial statement setting out their financial position. They are also required to set out the orders that they are seeking the Court to make, and these documents must be served on the other party to the marriage.
A Case Directions Hearing will then be listed by the Court, which is designed to give the parties a formal opportunity to request discovery of documents and any other interim orders they may require before the matter can be set down for hearing. Consent orders may be entered into at any time, however, if orders are entered into while the other party does not have a clear picture of the asset position, they are liable for the matter to be set aside if the other party later discovers they have been misled. Lawyers must warn their clients that if they do not accurately disclose their financial position that any settlement reached may be set aside in future. It should also be noted that once proceedings commence in the relevant court, it is unlikely that any undisclosed financial matters will stay hidden.
The breakdown of a marriage and seeking divorce can be tricky and stressful. All relationships are different which is why it is important to seek legal advice before you act – to gain a better understanding of your rights, likely outcome, and the steps you should take to protect you interests and the interests of any children that may be involved.
Please contact Matthies Lawyers for an obligation free consultation or call +61 3 8692 2517 today.
Disclaimer: This article contains general information only and is not intended to be a substitute for obtaining legal advice.